Acupressure Yoga Mat & Pillow set
Sale price Price $39.99 Regular price $54.99 Unit price / per
Tax included.
✅IMMEDIATE: back and neck pain relief in the comfort of your own home with as little as 20 minutes per day.
✅ELIMINATES:
 the need for expensive treatments as well as therapists, masseuse and chiropractor visits.
✅EFFECTIVELY:
 induces a state of complete relaxation while reducing aches, pains, stress, and tension.
✅RELIEVES:
 mild or chronic back, neck, shoulder, and sciatic pain.
✅OTHER BENEFITS:
 include improved sleep, circulation, and mood as well an increase in energy levels.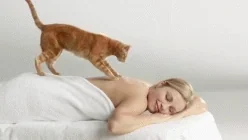 What is the Acupressure Mat?
A thin mat covered with ABS spikes. It is inspired by an ancient Indian healing tradition that is believed to have been around for thousands of years. The spikes are harmless and won't damage your skin. Each one has been strategically placed on the mat and pillow in order to maximize the healing benefits to your body! 
How does it work?
The Acupressure Yoga Mat is the perfect assistant to your self-treatment routine. It works like acupuncture; allowing your body to release endorphins, which have the ability to produce analgesia and a feeling of well-being. Each person's experience is unique but positive all the same! Our clients report feeling happier, relaxed, having more energy and a clearer mind. If used regularly the acupressure set may: -Increase energy level-Improve blood circulation-Decrease stress-Relieve neck and back pain-Reduce blood pressure-Alleviate headaches-Improve sleep.
How to use?
Place the mat on the ground with spikes pointing up. Lie on the mat. The mat will allow you to target curved areas, such as the neck, lumbar, and even feet. It is preferred to do it daily for 10 to 30 minutes each time or as long as desired. For beginners, it might be better to start for a shorter period of time and/or wear a shirt or place a thin cloth between the spikes and your skin.
Size of cushion: 26'' X 17''
Size of pillow: 15'' X 5'' X 4''
Who exactly needs acupressure massage set in their life?
➡️ Those who spend much of the day sitting
➡️ Those who often feel discomfort & stiffness in the muscles of the neck, shoulders, and back
➡️ Those who feel somewhere between tired and exhausted in the evenings,
➡️ Those who regularly suffer from headaches & migraines
➡️ Those who have a tough time falling asleep and sleep badly at night
➡️ Those who are actively engaged in sports, fitness or yoga
➡️ Those who would like to improve their skin condition in problem areas and get rid of cellulite.

Daily massage with Acupressure Yoga Mat is an effortless way of restoring energy and strength, getting rid of stiffness in the muscles, improving sleep and taking care of your body's overall wellbeing. Give yourself a massage every day to make life happier & healthier! 💖
 Five reasons to choose infinity mat over other acupressure mats:
Reasonable price - You do not pay for excessive celebrity endorsement, you only pay for the product. 

Safe filler - The massage mat is made only from quality materials. We do not use cheap foam rubber, as this quickly loses its elasticity and crumbles. Infinity mat filler is a cotton and polyester non-woven fiber mix called Forplit. 

The quality of the spikes - made from top quality ABS plastic. The original design was developed by top bio-designers - the main goal of the design is for the massage elements to withstand weight while providing steady pressure on the skin. 

Comfortable pillow-soft and pleasant to the touch and easily adjusts to your neck, but does not deform after use. The filler is made from super-supportive latex.

Environmentally friendly - we help large mattress manufacturers make their production waste-free. The latex pillow filler is made of leftover pieces from the production of high-quality memory-foam mattresses. We have considered everything down to the smallest detail; in order to create the best acupressure massage mat for you. ❤️
 Why choose Acupressure Yoga Mat over other mats?🧐
Its quality makes it extremely durable and its price makes is affordable for anyone. All materials used in its production are free from any harmful chemicals. The mat filler is non-woven fabric Forplit and the pillow filler is supportive latex. 👍
By using the Acupressure Yoga Mat, you feel its effects from the first minutes, massage is an improvement for the blood flow system, activates the circulation of blood throughout the body, which is reflected in the redness of certain areas of the skin 👌 
There are no words to describe the sensations you experience when lying on Infinity mat, you need to try it to understand it! The first time you are surprised, the following sessions conquer you, and finally, you become addicted. 15 minutes and immediately you feel a surge of energy and satisfaction, even your mood increases! 😊