I don't know about your dogs, but when my dog has a treat, there's essentially nothing that could possible distract him from devouring that treat. The house could be on fire, and he'd continue devouring every last morsel before saving himself. That's what makes this dog bath distraction tool so handy! It's a sticky slow feeder that will distract your dog while you give them a bath.

No more trying to wrangle your dog into the bathtub and keep them there while you bathe them. Just paste some peanut butter onto the Slow Treater, slap it onto your shower wall, and start cleaning your pooch as they slowly devour their treat.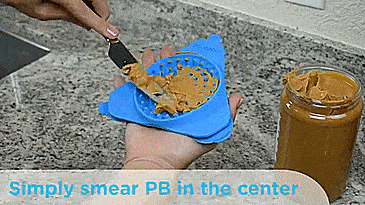 The Slow Treater dog bath distraction feeder is made from 100% silicone so you can even freeze the treats onto the feeder before using it, so that it'll last even longer. The device is also filled with tons of little nubs that'll make it even harder for your dog to devour the peanut butter too fast.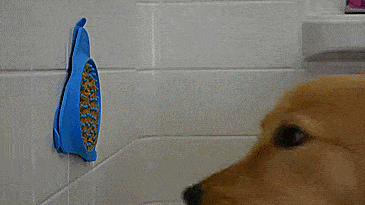 The Slow Treater easily sticks to any surface, works perfectly